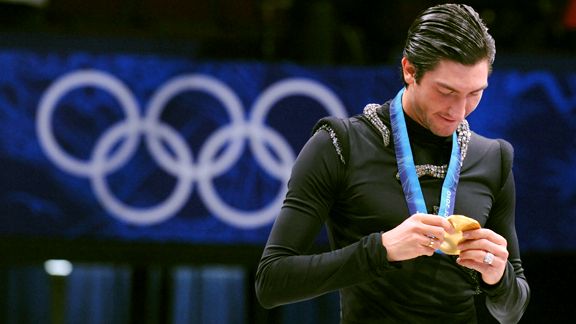 YURI KADOBNOV/AFP/Getty Images
Evan Lysacek is torn.
Should the 2010 Olympic figure skating champion get back to training and prepare for 2014 Games, or should he give up the sport to try something new, like acting?
"I'm a road map type of guy. I like to have a goal and try to reach it," said Lysacek, who was raised in Illinois and now lives in Los Angeles. "But right now, I'm not sure. I need to analyze the next four years of my life. I have had to sacrifice a lot, including friends and relationships, to become a top-level athlete."
It's totally understandable when you're talking about a demanding sport like figure skating for Lysacek, who began training at the age of 8. But since the spring, Lysacek has appeared on "Dancing with the Stars," "Stars on Ice" and commercials for the ESPYS. He's looking to do more acting.
"I'm really, really happy right now. I spent years turning down everything for the sake of training, and I think now is the time to take advantage of it," said Lysacek, who is up for an ESPY Wednesday night. "Don't get me wrong. I love to work and I love to be busy. But I'm not sure I'm going to be that hungry to give all this up for another four years."