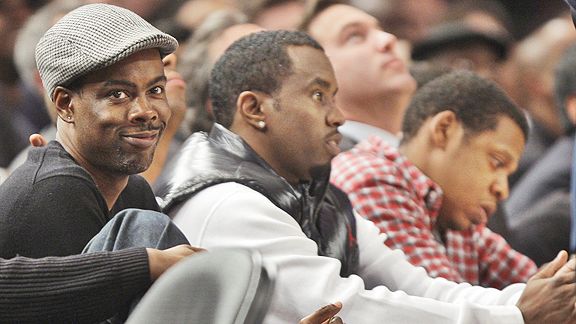 AP Photo/Kathy WillensTo help a charity, you could be sitting next to Chris Rock at a Knicks' game.
Chris Rock and his wife, Malaak, couldn't have planned it any better.
Next month, the couple are packing their family -- daughters Lola and Zahra -- and taking 30 Brooklyn kids to South Africa, as part of their charity "Journey For Change: Empowering Youth Through Global Service".
The charity is pretty cool; Rock says he didn't get the chance to travel outside of his neighborhood until he was a grown up and starting out in his career. The charity, "allows kids from my neighborhood in Brooklyn to go to Africa to help those in need and then come back and advocate for change," Chris Rock said. "So I want everyone to bid on these items to help my wife and I help as many kids as possible."
But before they go to Johannesburg, South Africa, for two weeks, they want to raise some money for the kids, and give Rock's fans a chance to bid on some pretty cool trinkets.
The big score up for grabs? A double-date to sit courtside with the Rocks at a Knicks' game.
They listed that item just a week or so before free agent Amare Stoudemire signed with the team; the pair is hoping that he'll not only be a big asset for the team, but that it'll help their charity. The newest Knick quickly got on board as well. In addition to the date with the Rocks, he's kicking in an autographed jersey.
"We were trying to think of out-of-the-box ways of raising money for 'Journey for Change', and both of us really love basketball games and you know, it's a New York City charity and the Knicks are a New York City team," said Rock's wife, Malaak. "And my husband has always enjoyed going to Knicks' games, and I enjoy going with him, so we thought it'd be fun to auction off a chance to go with us."