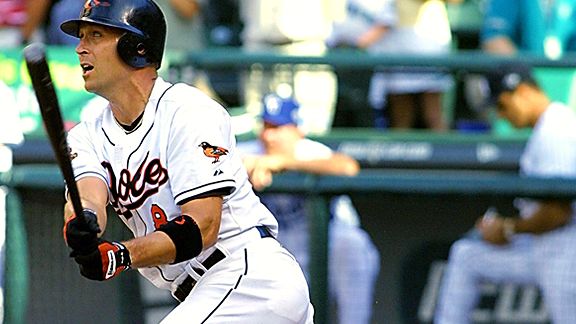 Dan Levine/Getty ImagesWhen you grew up around the O's, of course Cheerios would be your cereal of choice.
Baseball Hall of Famer Cal Ripken Jr. and country music superstar Martina McBride have teamed with Cheerios to recognize Americans who show commitment to a healthy lifestyle with the "Do What You Love" Contest.
One baseball fan will have lunch with Ripken and tour the Ripken Youth Baseball Academy in Aberdeen, Md. The winner also will throw out the first pitch at the Cal Ripken World Series game and sit in Ripkens' seats at a Baltimore Orioles game.
One music lover will win a tour of McBride's recording complex and gets a private tour at the Country Music Hall of Fame and Museum in Nashville, Tenn. The winner also receives VIP tickets to one of her concerts.
You will need to submit a 150-250 word original story and photo to the contest, which runs through July 23 here.
Cal, how did you get involved in this project?
"I have eaten Cheerios my whole life. It was one of those regular breakfasts in our house when I was a kid. I thought the initial call [from Cheerios] was more exploratory because I am turning 50 next year, but when I started to tell them about how I now have to take better care of myself than when I played and that my cholesterol came back a little high, I guess they thought the fit was perfect."
Do you think baseball is still "America's Game"?
"I think it is. A lot is made about how less kids are playing baseball now. I would argue that kids have more choices now and that is a good thing. The stat you don't hear is that kids who are playing now play more than ever. The attendance numbers and TV ratings for MLB goes up every year despite the recent issues they have had to deal with regarding performance enhancers so I believe the game, overall, is in very good shape."
Playing off "do what you love", if you weren't in baseball, what would you want to do?
"Wow, I don't know & as a kid I loved math and science so I am guessing something in that area but I have been in baseball my entire life so I really don't have a great answer. "