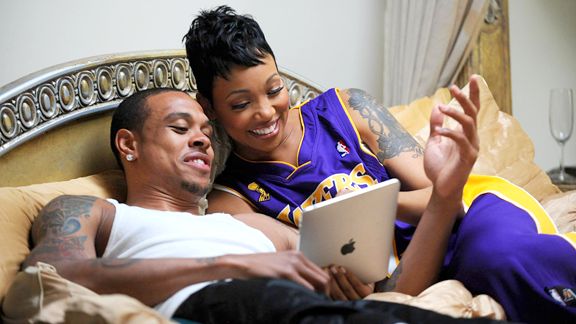 RCA Music GroupSinger Monica invited Los Angeles Lakers' Shannon Brown to be part of her video.
A little more than a week after "The Decision," R&B singer Monica has a big, life-changing decision of her own to make in the video for her song "Love All Over Me."
Monica's decision also has a basketball theme, and she's asking fans to help her choose between Los Angeles Lakers point guard Shannon Brown and rapper Maino.
The video, which debuted Thursday night on VEVO and BET, can be seen at the bottom of this story. After you watch the cliff-hanger ending, help Monica choose between her two loves 15 years apart in the story.
To vote for Monica's new love (Brown), fans can text NEWLOVE to 66937. To vote for Monica's old love (Maino), they can text OLDLOVE to 66937. They also can vote at Monica.com.
The final version of the "Love All Over Me" video, as voted on by fans, will be revealed July 23.