Leave it to Miami's men of the moment -- LeBron James, Dwyane Wade and Chris Bosh -- to transform an utterly forgettable 6-year-old eyesore into the single hottest basketball trading card on the market.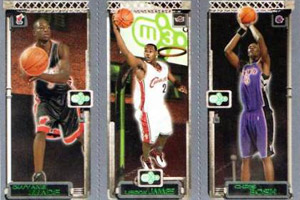 ToppsThis card of James, Wade and Bosh has gone up in value by 200 percent.
While South Florida's hoops-collecting populace was waiting impatiently for the first cards featuring James, Wade and Bosh together, those with a little more market savvy and a lot more memory began scouring their 2003-04 Topps Rookie Matrix stashes for the one that already existed.
Last week that card was valued at $20. Today it's valued at $100. And when the new issue of Beckett Basketball hits the market later this month, the convoluted Rookie Card will also be No. 1 on the Hot List, ahead of key Rookie Cards of five-time NBA champion and 2010 Finals MVP Kobe Bryant and 2009-10 Rookie of the Year Tyreke Evans.
For those counting at home, that virtually-overnight ascension from $20 to $100 represents a 500 percent increase. Not bad for a set that was an afterthought not long after it was released in April of 2004.
Simply put, the 2003-04 Topps Rookie Matrix product was a conflicted mess whose one redeeming quality -- this card -- has perhaps forever changed the set's legacy for the better.
The product spread 33 rookie players in various combinations across 110 perforated Rookie Cards, a nod to the famous 1980-81 Topps Rookie Card of Larry Bird and Magic Johnson that also included Julius Erving. It also utilized a design that wasn't well-received among veteran collectors.