Ozzie Smith may be retired, but that doesn't mean he's taking it easy.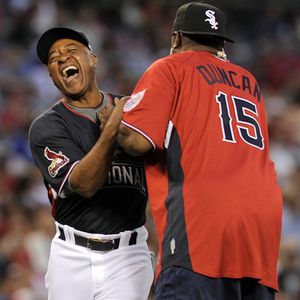 AP Photo/Mark J. TerrillOzzie Smith jokes around with Michael Clarke Duncan during the All-Star Legends & Celebrity softball game.
Last week he attended the All-Star game in Anaheim, Calif., where he correctly predicted the NL would end its 12-year drought. Afterward the Hall of Famer and former St. Louis Cardinal flew to Tahoe, Nev., to play in the American Century Championship golf tournament.
"I'm really enjoying golf right now," Smith said. "I'm beating this little white ball around."
Ozzie finished 42nd in the tournament -- not exactly something to do his trademark back flip over (not that he's even attempting it anymore).
"The last time I tried was in 2002 and it didn't go very well," Smith joked.
In addition to staying visible around MLB and working on his hobby, Smith has teamed up with The Depend Campaign to End Prostate Cancer with other sports celebrities such as Mike Bossy, Ken Griffey Sr., and Jim Kelly.
Through 2010, a portion of the proceeds from every purchase of Depend's products for men will go to a final donation of $250,000 to ZERO -- The Project to End Prostate Cancer.
"I'm encouraging all men to go to their doctor and talk about it," Smith said. "If detected early, prostate cancer is not only treatable, it's very beatable."