MIAMI -- Dwyane Wade could always move the crowd. But this time it was different for the Miami Heat superstar guard. At halftime of Sunday's All-Star basketball game he shares with Alonzo Mourning at Miami's AmericanAirlines Arena, Wade boldly strolled over to the front row and sat down beside actress Gabrielle Union.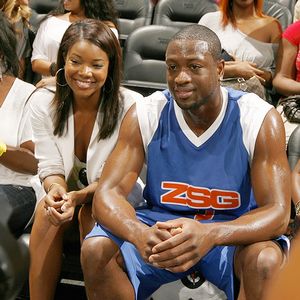 Issac Baldizon/NBAE/Getty ImagesWade and Gabrielle Union were all smiles on Sunday.
The two smiled and laughed, posing for pictures as a mob of photographers swarmed around them. And then, in front of a crowd of about 10,000 people, Wade kissed Union ("Bring it On," "Bad Boys II," CBS' "City of Angels"). It was the most public announcement yet that the two are a couple. It also symbolized a great sense of freedom for Wade, who has spent almost three years going through a nasty divorce and custody battle.
"It's nice to be able to just live your life and not really care about what people are going to say, and just be free," said Wade, who has also been fighting a lawsuit from a failed restaurant venture. "It is nice that you can just move on with your life.
"This summer's been real big for me for that. I've been getting a lot of things behind me -- and God has continued to bless me -- and a lot of it has been positive. It's been a two-and-a-half, almost three-years hardship. But now it's going away, and just don't get myself in anything like this soon and I'll be fine."
Wade and Union were together during the week at other events during The Summer Groove presented by Alonzo Mourning and D. Wade, the week-long charity event that includes a youth summit, comedy show, street party, silent auction and golf tournament.