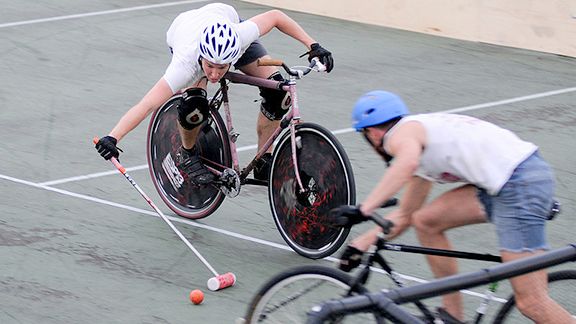 Bruce Carver Competitors strike a ball while deftly riding a bike on asphalt. No, it isn't too easy.
MADISON, Wis. -- Imagine beer, bikes and polo meeting on asphalt and you'll start to get an idea of what hard-court bike polo is all about.
This little-known sport is an incredibly distant relative of horse polo -- but without any of the gentility. Cut-offs and T-shirts replace the more formal riding pants and tails; merciless hecklers serve as fans; worn asphalt tennis courts replace finely manicured polo pitches; and oozing scabs are a sign of a game well-contested. Oh, and tattoos, while not required, are certainly encouraged.
Welcome to the North American Hardcourt Bike Polo Championships, in which 66 three-man teams competed over the weekend for a chance to play at the World Championships in Berlin, Germany, in August.
"To be good at this you have to be both good on your bike, and also have an understanding of athletics in general," said Jonny Hunter, the NAHBPC organizer. "You see a lot of hockey players, lacrosse and soccer players. It's a mix of what we jokingly call 'bike jocks.' "
"The Odds" won the tournament, putting the final game out of reach on a last-minute breakaway goal by Philadelphia's Mark Capriotti. He and his teammates, Chris Roberts and Nick Vaughn, survived three grueling, humid July days of competition (and booze-soaked nights) to win $3,600, which is intended for use on plane fare to the World Championships.
The championship was contested at something less than a pristine athletic venue. Ragged tennis courts on the outskirts of Madison were ringed by small plywood walls, while fans, high on Gatorade and Miller High Life, were enthusiastic.