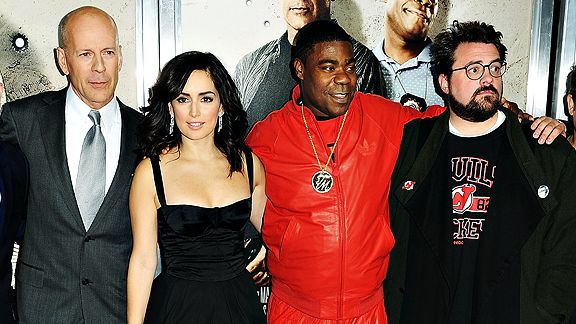 Stephen Lovekin/Getty ImagesDirector Kevin Smith (right) attends the premiere of his movie "Cop Out" with some cast members.
Turns out, Silent Bob isn't all that silent.
When Kevin Smith -- the director, writer and actor behind that pop culture figure -- talks, he fancies the naughty words. Like, he really, really, really likes to drop a good f-bomb in the middle of a conversation -- just like any other true-blue red-blooded hockey fan.
And when he delivers them (or really anything he says), much of it is done so in a stream-of-consciousness way; trust that all of it is pretty hilarious.
Dressed in an Ottawa Senators jersey, Page 2 recently sat down with the director -- his DVD "Cop Out," which stars Bruce Willis and Tracy Morgan, is released Tuesday -- and he chatted about his love of hockey, playing goalie and how when it comes to sports, he kind of feels like the fat kid looking in on the outside of the restaurant.
My boss said you were going to write for us on Page 2 …
"I remember that email being asked to write for ESPN and I was thinking, 'Wow,' it was so weird to be asked that question because I am so, so so not that guy, never was growing up. I mean, honestly if you asked me to name every team in the NFL, I could not. I probably couldn't name 10 in the NFL or the MBL -- or what is it, MLB?
Yep. MLB.
"MLB. See? I'm just not that guy. Hockey is the only thing I was ever gravitating toward. Hockey I can talk religiously about, so I felt like when the dude was like 'do you wanna write here?' I was just like, 'dude, they're gonna feel that I'm a fraud.' Sports fans, they're worse than movie fans. They're religious."