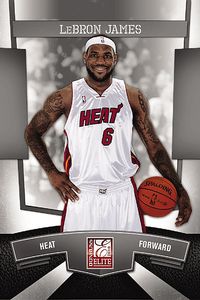 PaniniPanini will release this LeBron James card at a show in August.
New team, new uniform, new card.
Panini America will release the first basketball card of LeBron James in his Miami Heat uniform next month at the National Sports Collectors Convention in Baltimore, Md.
It won't be an easy card to find at first as show attendees will be the only ones to own the card -- if they get lucky and discover one in a pack of cards specially made for the event that runs Aug. 4-8 at the Baltimore Convention Center.
James' card will be part of a 50-card set made as an incentive to visit the company's booth at the show. Panini is the only officially licensed manufacturer of NBA cards, too, so it certainly won't be his last. But being first has its advantages.
"It will probably be the most popular card on the market," Beckett Basketball Senior Market Analyst Keith Hower said. "And most likely the most expensive base card of the year."