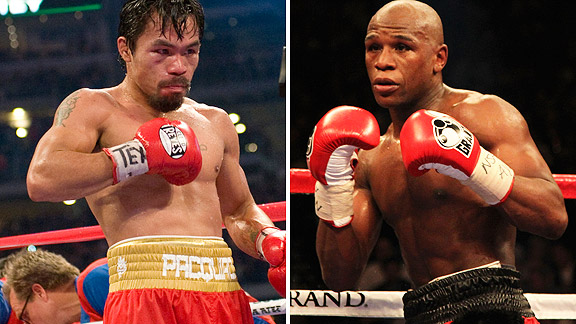 AFP/Getty Images
Bob Arum joined Fox Sports Radio with Stephen A. Smith to talk about what happened with the negotiations between Manny Pacquiao and Floyd Mayweather.
On what happened in the negotiations:
"Well this has been going on for two months and we have been negotiating through Ross Greenberg, the President of HBO Sports, and Floyd had a representative on the other side. It appeared to me that we had reached an agreement. We never had the assent of Floyd Mayweather. He never, ever agreed to anything and he never let us know if he would fight or not. At this point, I had to go ahead and make another fight for Manny Pacquiao. We had a deadline which is a deadline ending the exclusivity period. I will now go out and speak to Margarito and his camp and Cotto and his camp and try to arrange a fight with either of them for Manny Pacquiao. If during that time Floyd says I want to fight and comes to the table, that would be our priority. Everybody ... you want that fight to happen, I want that fight to happen, Manny Pacquiao wants that fight to happen, but Floyd may not want to do that fight this year. I think there are reasons why he might not."
On what reasons Mayweather may use to back out of the fight:
"Well one of them is his Uncle Roger has been his trainer for the last ten years, they have a great, great relationship and Floyd relies on him. Roger is in legal difficulty and there is a criminal case against Roger which apparently goes to trial August 2nd. There's nothing any of us can do about that, but that certainly has to concern Floyd. Secondly, Floyd made a lot of money in the Mosley fight and he may decide that it's enough for the year and I will revisit the issue next year. As far as we're concerned, we're saying 'look if Floyd isn't available this year, hopefully Manny wins his fight in November and were happy to fight him next year.' There's no animosity unlike what happened last time around. This time there is absolutely no animosity. If Floyd would like to do the fight next year, there are reasons for that decision."
• Click here for a transcript of highlights from the interview