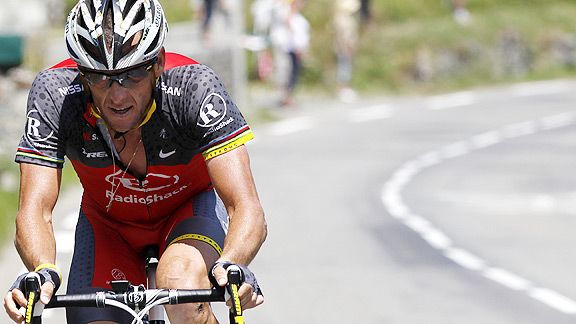 Joel Saget/AFP/Getty ImagesLance Armstrong rides in his breakaway earlier this week in the Tour de France.
Are you confused by Tour de France etiquette after the "Great Chain Controversy" of Stage 15? Puzzled over what is considered aggressive fair play and what is considered poor sportsmanship? Confounded by when an attack is proper strategy and when it is dishonorable? Then you haven't been following this year's Tour de France closely enough. All the rules regarding proper behavior have played out in full view for us to learn from.
Based on what's happened in the stages so far, here's how it works:
You are allowed to continuing racing hard if the best sprinter in the world crashes rounding a corner in the final two kilometers (Stage 1). Because, after all, it's a race and you damn well aren't going to slow down for someone else when the finish line is almost within sight.
You are not allowed to attack after much of the peloton crashes on a sharp turn on a steep descent on a wet, slick road in the rain, especially when the yellow jersey (who has no chance of winning the Tour) gives up his lead and tells everyone to stop racing, allowing several of the pre-Tour favorites who crashed to catch up (Stage 2). Because, after all, no one wants to take advantage of other riders' misfortune due to poor road conditions brought on by bad weather and a dangerous course layout. (Especially when they are teammates.)
You are allowed to continuing racing hard if a seven-time Tour champion and the biggest name in the sport has a mechanical problem, such as an inconvenient flat tire while riding behind you on a stretch of brutal cobblestones, a puncture which will effectively end his hopes of winning the Tour (Stage 3). Because, after all, if you sat up for every little puncture or chain problem, paperboys on their Schwinn Sting-Rays would beat the peloton to Paris.
You are not allowed to attack if the yellow jersey's chain slips off while he is attacking you on a climb (Stage 15). Because, after all, that is disrespecting the yellow jersey by taking advantage of your rival's mechanical problem, and who would want to win the most important race in the sport that way, even if you are 31 seconds behind your rival at the time?
Is everything clear now? No, I guess not. That's because the Tour etiquette is a little like baseball's unwritten rules -- somewhat open for interpretation.
So what is the Tour etiquette on crashes and mechanical issues? It's pretty simple, really. You're always free to attack except when you aren't.