Star softball pitcher Jennie Finch announced her retirement this week, capping a wildly successful career that included an NCAA championship, Olympic gold and silver medals and the highest honor of all -- being named Page 2's first hottest female athlete.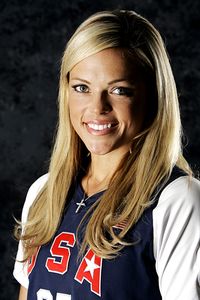 AP Photo/Charles Rex ArbogastJennie Finch captured seven world championships with Team USA.
As Finch bids us adieu, Page 2 takes a quick "Where are they now?" look at our other previous winners:
Heather Mitts, 2004
The U.S. national soccer team defender won gold at the 2004 Olympics, served as a network analyst, appeared in the 2005 Sports Illustrated swimsuit issue, tore her ACL in 2007 and returned to win a second gold at the 2008 Olympics. She's currently playing for the Philadelphia Independence of Women's Professional Soccer and is married to NFL quarterback A.J. Feeley.
Amanda Beard, 2005
The Olympic swimmer won gold in 2004 in the 200-meter breaststroke and was a Team USA co-captain in 2008 but failed to medal. She posed nude for Playboy and PETA and worked as a television sports correspondent. She's married to a photographer and had her first child, a boy, in 2009.
Tanith Belbin, 2006
Along with ice-dancing partner Benjamin Agosto, she won a silver medal at the 2009 world championships and earned a fourth-place finish at the 2010 Olympics. Belbin announced her retirement from competitive skating in June.