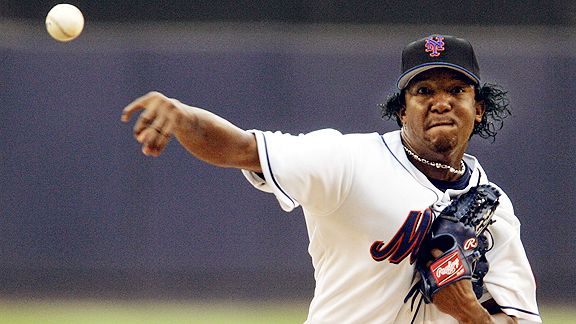 AP Photo/Kathy Willens
Pedro Martinez has decided he won't play this season, but he's kept the door open for a 2011 return. Who knows if this is it? Even if he returns, he obviously won't be "Pedro" Pedro. That dude has been MIA for a few seasons. He checked out when he left his Jheri curl behind last season.
I can tell you this: We're more likely to see a player go on an insanely dominant five- to seven-season streak, like Prime Pedro, than we are to see another professional athlete rocking a Jheri curl.
As long as the NHL is around, we will see mullets. Cornrows are too functional and low-maintenance to ever completely vanish. Even the box was cool enough in its heyday to pop up in a short-lived trend every so often. The Jheri curl, brothers and sisters, is a wrap. RIP.
So, as an homage to the possibly retired Pedro and the belated death of one of America's most tragic hairstyles, Page 2 presents the Top 10 Sports Jheri Curls. Cover your eyes...
10. Andre Dawson: Only fitting that we lay the Jheri curl to rest the same weekend Dawson is finally inducted in Cooperstown.
9. Tommy Hearns: Reppin' Detroit, the geechy capital of the world, Hitman let us know that L.A. didn't have a monopoly on the curl.
8. Rickey Henderson: "Rickey Henderson's curl isn't sheenin'. Somebody get Rickey Henderson his activator."
7. Jimmy "Superfly" Snuka: I tend to disregard pro wrestlers as athletes, but my man's curl was too outrageous to exclude.
6. Michael Cage: All that Soul-Glo-mixed sweat had opponents sliding off Cage all the time. That's how he grabbed so many boards.
5. Deion Sanders: Prime Time, baby. Who will forget his introductory NFL presser? He was "activated" to death.
4. Eric Dickerson: The goggles made Dickerson's curl look even more ridiculous.
3. A.C. Green: Magic had the smile. Kareem and Worthy had the goggles. Coop had the knee-high socks. A.C. had the curl.
2. Pedro Martinez: If you have the gall to rock a curl in 2007, you're a beast.
1. Prince: I know what you're thinking -- that Prince wasn't an athlete. That's what I said to Charlie Murphy one time. You know what he said back? "You tell one of these ballers to jump off a 10-foot speaker in high heels." 'Nuff said.