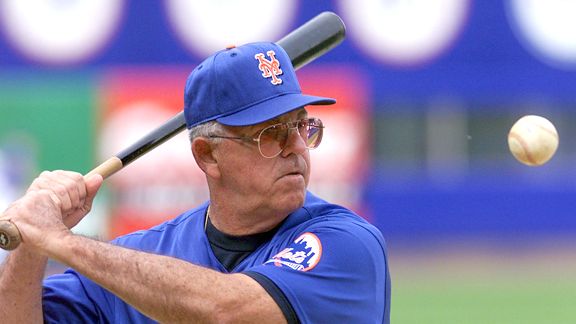 AP Photo/Mark LennihanCookie Rojas, who had a long career and also was a former Mets coach, makes All-Dessert team.
The Nathan's Hot Dog-Eating Contest is over, but there's always time -- if not room -- for dessert. In the spirit of sweetness, we present the All-Dessert Team. Enjoy.
Walter Berry: "The Truth" was a false prophet who played his final NBA game at age 24. Of Berry, the New York Times' Clifton Brown once wrote, "He is often caught in the air with no place to go, leading to either a bad shot or a turnover." Ummm. Turnover.
Doughnut Carrick: Some nicknames don't make sense. Such was the deal for William Martin Carrick, a pitcher who checked in at 5-foot-10 and 150 pounds. Doughnut did toss three shutouts for the 1899 New York Giants. Unfortunately, he also lost 27 games that year.
Fred Cone: Back when men were men and fullbacks were kickers, Cone enjoyed a prosperous NFL career for the Packers and Cowboys. He's one of only six players to score at least 15 touchdowns and kick at least 50 field goals. Another Fred Cone was the 27th governor of Florida.