How popular is NASCAR? Popular enough that at least four states -- Oklahoma, Mississippi, South Carolina and North Carolina -- offer a series of commemorative NASCAR-themed license plates, so you can bring your favorite driver along for the ride.
Earlier this summer, North Carolina upped its inventory of NASCAR plates to 26 with the introduction of the Dale Earnhardt Hall of Fame license plate. The state also has plates with drivers of varying success ranging from A.J. Allmendinger to Kyle Busch.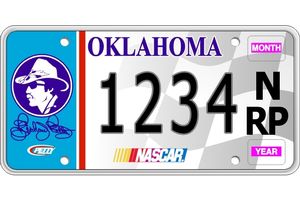 Courtesy of Oklahoma Department of Motor VehiclesOklahoma has a soft spot for NASCAR.
In most states, you'll find a selection of college and pro sports plates. It also turns out that "Ducks Unlimited" plates are available in many states. New York offers a "Birthplace of Baseball" plate while Alaskans who have finished the Iditarod Dogsled Race can purchase an "Iditarod Finishers" plate.
Below is a look at some other funky offerings:
CONNECTICUT: Home to the seven-time national champion UConn women's basketball team, the state does not have a specialty plate honoring the team, but does have one for the "Ferrari Club of America" and one commemorating the men's national championship in 1999. The men's basketball team has since won a second championship in 2003.
GEORGIA: As if Georgia doesn't have enough problems bringing fans to the "World's Largest Outdoor Cocktail Party" in Jacksonville every year, the state allows Gator fans to rub it in year round with the "Atlanta Gator Club" license plate. Also available: "The Florida State University Seminole Club" plate.