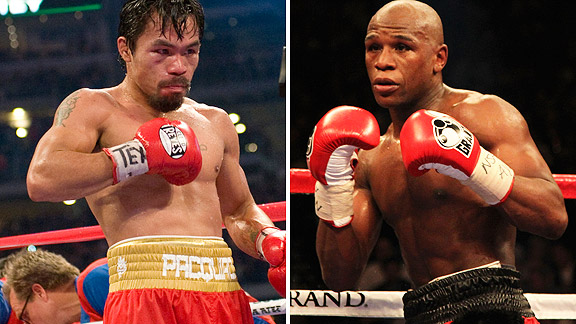 AFP/Getty ImagesManny Pacquiao and Floyd Mayweather need to just get in the ring and settle it.
Does anybody out there understand boxing anymore? And does boxing understand how the world works?
Don't those guys read comic books?
Floyd "Pretty Boy" Mayweather and Manny "Pac-Man" Pacquiao are considered superheroes by many. Each considers the other to be his nemesis. And nothing is cooler than having a nemesis.
The Hulk has the Leader. Professor X has Magneto. Superman has Lex Luthor. And, of course, Batman has the Joker.
In every case, the nemesis is always ready for a fight. It's what they do.
Pac-Man is ready -- but Pretty Boy has taken a powder. How wrong is that?
So now Pacquiao plans to fight Antonio Margarito, who is apparently pretty good but can hardly be classified as a nemesis. Back in Jan. 2009, Margarito lost his California fighting license when plastic-covered inserts were found in his hand wraps right before his fight with Shane Mosley. Granted, he must have needed them as Mosley cleaned his clock.
As far as nemeses go, Margarito isn't even the Penguin.
A few more thoughts about boxing: