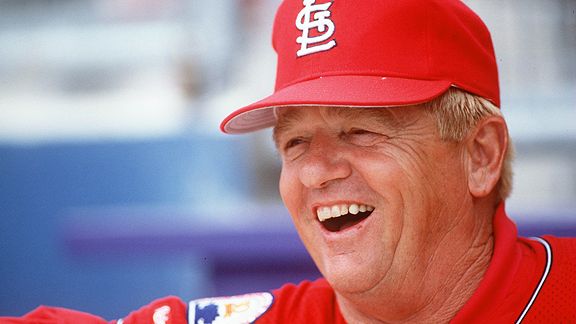 Getty ImagesWhitey Herzog deserves to have his number retired, but some others have interesting stories.
Former manager and brand new Hall of Famer Whitey Herzog has long been considered a Cardinal immortal by the team's fans. This Saturday, the team will make it official, retiring his No. 24 prior to a game against the Pirates.
Herzog led the Redbirds to the 1982 World Series title and two other appearances (1985 and 1987). Retiring his number is a natural.
But there are some other retired numbers that might surprise you -- for their location or reason:
No. 9 Gordie Howe, Carolina Hurricanes
Yes, the Red Wings retired Mr. Hockey's number long, long ago. But what's interesting is that his No. 9, while not hanging in the arena, is out of circulation to Carolina Hurricanes' players, as well. Howe played his final season with the Hartford Whalers, now the Hurricanes.
No. 12 Wade Boggs, Tampa Bay Rays
You won't find No. 12 on the walls of Fenway, despite the fact that Boggs won five batting titles with the Red Sox (1982-92). Instead, you'll have to head south. Boggs' stint at Tropicana Field is most noted for this -- on Aug. 7, 1999, he became the only MLB player whose 3,000th hit was a home run.
No. 15 Brad Davis, Dallas Mavericks
Davis was one of the original members of the Mavs and while his numbers were solid, they were hardly the kind of numbers associated with someone whose jersey hangs from the rafters. In 12 seasons, Davis never averaged more than 12 points per game in a single season, and finished with an average of 8.0 for his career.