LAS VEGAS -- Tired of hype? Sick of glitz and glamour, flash and slickness?
Me too. Yet after spending an afternoon at the NBA's Summer League, I have troubling news to report.
The only thing worse than Sports Cheese is … no Sports Cheese.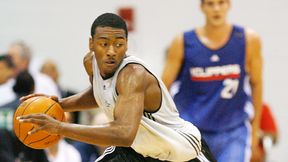 AP Photo/Laura RauchJohn Wall displayed his skills in their purest form in the NBA Summer League.
Let me explain.
I came to get away. To escape. Pummeled by pre-game pyrotechnics … failing bracketology 101 … adrift in a sea of breaking news bottom lines … overwhelmed by mascots, buff dunking mascots and buff dunking mascots jumping off trampolines … wondering if I actually watched LeBron James stammer about taking his talents to South Beach, or if Leonardo DiCaprio sneakily inserted the whole bizarre scene into my dreams, I flew across the country, ending up in the one place where the game remains a game. Pure and unadorned.
Vegas.
Cox Pavilion.
Summer league.
Was I hoping to see ballyhooed Washington Wizards guard and No. 1 overall NBA draft pick John Wall? Sure. I read the papers, the web, watch waaaay too many televised highlights.
But that wasn't my primary motivation.