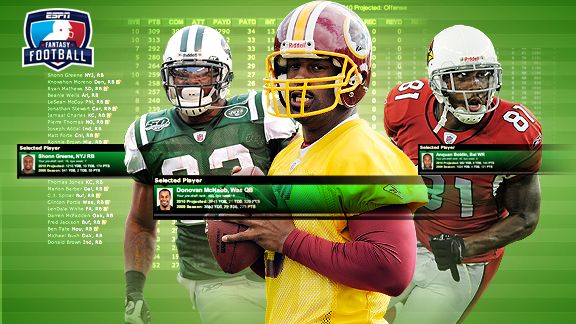 It's Christmas morning and every big, brightly wrapped package underneath the tree has your name on it. The only difference is that you won't find a train set or the Lego version of the Death Star behind the wrapping. No, you know you are going to find Chris Johnson or Drew Brees or Andre Johnson crammed into your stocking.
That's how we feel about our fantasy football Draft Night. It's that special.
It's belongs somewhere in the Big Five with Christmas, your birthday, tax refund day, Super Bowl Sunday and (he wrote dutifully) your anniversary. (You decide which one to throw out in order to make room for Draft Night.)
But any event that can offer as much reward as Draft Night can also offer that much pain. Even a hot date gone bad is not as embarrassing -- because your buddies weren't there to witness your stupidity. At least, we hope your buddies weren't there.
A botched draft is a horrible thing. "My quarterbacks are JaMarcus Russell and Mike Vick?" Oh yes, it happens -- and it has happened to us all.
You've been there. Don't deny it. And that's what we want to know this week. What results tell you that you have had a really bad Draft Night? In fact, as a warning to others, let's put together this list: "Top Ten Reasons Your Fantasy Football Draft Night Went Really Bad."
Send your best reason (or reasons) to osogreene@aol.com -- plus your first name, initial of your last name and your location. Do it now. You're at work, so you've got nothing better to do. After all, we're talking fantasy football again -- and nothing's better than that including Christmas -- or, at the very least, your anniversary.
We'll publish the list Thursday -- a chance for your 15 seconds of fame!
• Click here to play fantasy football for free on ESPN.com!