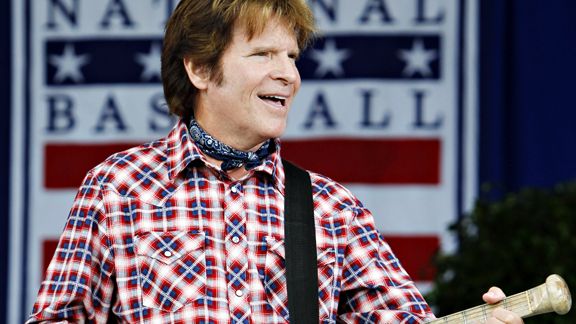 AP Photo/Mike GrollJohn Fogerty performed "Centerfield" during the Baseball Hall of Fame induction ceremony Sunday.
This past weekend, John Fogerty's 1985 hit "Centerfield" was honored at the Baseball Hall of Fame for its contribution to the sport. It was the first time a musician or song had been recognized at such a ceremony, and it got us thinking: Which other songs are worthy of Hall of Fame acknowledgement?
"One Shining Moment" is a college basketball classic, but what about "We Will Rock You"? Or even "Take Me Out to the Ballgame"? If you think a song should be honored at a particular sport's Hall of Fame, let us know about it.
Send the song, sport and your convincing argument to kaitee.r.daley@espn.com, along with your first name, the first initial of your last name and your location. Bonus points for anyone who ends his or her e-mail with "Put me in coach, I'm ready to play ..."
Look for the list on Page 2 this Wednesday.