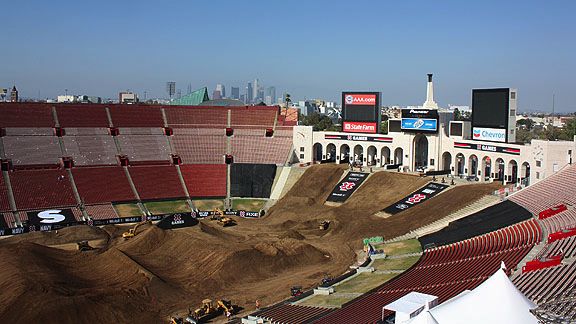 Brian Kamenetzky/ESPNLosAngeles.com Tons of dirt litter the L.A. Coliseum as it prepares to host rally cars and motorcycles this weekend.
The pope is used to a certain measure of protection. His security detail is hard core. He frequently drives around encased in bulletproof glass. After all, ours is a dangerous world.
Plaques honoring historic visits from popes of yore, however, usually can get by without any unusual fortification.
Usually.
This week, the bronze likeness of Pope John Paul II at the L.A. Memorial Coliseum commemorating his 1987 visit wears a skirt of steel trench plate, concrete and padding as final preparations are made to transform the Coliseum into an X Games centerpiece. In fact, the village of luminaries comprising the Memorial Court of Honor along the stadium's iconic peristyle columns is seeing a change in the surroundings. Everything, it seems, is wrapped in steel. Where once His Holiness and friends looked east toward the Jack and Jill statues and west to the long expanse of green grass and cardinal USC end zones, now all they see is dirt.
Tons of it. And berms, ramps and whoops.
The engines have returned.
The Coliseum traces to the beginning of supercross as a sporting discipline. In 1972, the inaugural Super Bowl of Motocross (nobody had changed the name yet) was held there, and was successful enough to warrant repeat engagements in '73 and '74 and serve as a springboard for a championship series. It remained a mainstay on the (now) supercross circuit until the early '90s, hosting fewer events after but still some of the sport's biggest (including a victory for eight-time X Games medalist Brian Deegan in an AMA event in '97 made controversial when he ghost-rode his bike -- meaning he wasn't on it -- over the finish line).