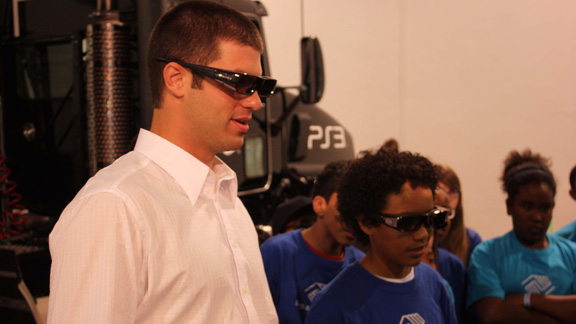 SonyMauer tries playing "MLB: The Show" in 3D at a recent Sony event.
Before Joe Mauer was American League MVP, batting champ and striking a pose for the cover of "MLB 10: The Show," he used to sit at home and create himself in baseball video games while dreaming of the day he'd see himself in the majors for real.
"I used to make myself in 'Baseball Stars,' but honestly, I think Sony did a lot better job creating me in 'The Show,'" Mauer tells me over the phone as we talk video games. "I've always played the baseball games, always enjoyed playing, and I never could've imagined that one day I'd be on the cover."
And in a case of life imitating art, Mauer says that this year, fans have been taking lines from his "MLB 10: The Show" commercial and yelling them at him during games. "Some cities are nicer than others in terms of what they say, and some of what is said I can't even repeat, but this year I've been getting a lot of references to going fishing from the commercial. I also get a lot of the line, 'Well played.' That one seems to have stuck with people" he says.
Mauer not only stars on "The Show's" box and in the TV spot, but he also was the inspiration behind the new ability to play catcher and call pitches in the game's Road to the Show mode.