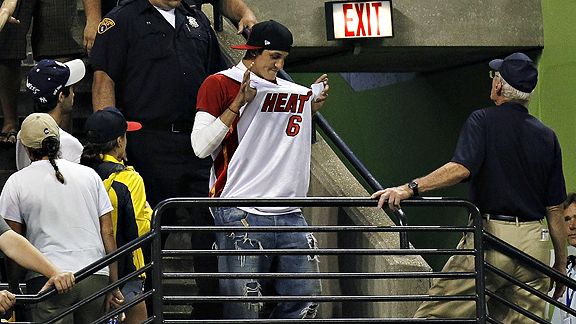 Gregory Shamus/Getty ImagesA fan wearing a LeBron James Heat jersey at an Indians game is escorted out of the ballpark.
CLEVELAND -- A fan wearing a Miami Heat jersey of LeBron James drew the ire of the crowd at a Cleveland Indians game and was escorted out of the ballpark.
Fans in the left-field bleachers chanted obscenities and pointed at the man Wednesday night during the sixth inning of the Indians' 8-0 loss to the New York Yankees. Hundreds of fans joined in before security led the man out of Progressive Field.
As he left, some fans followed him toward the gate with more derisive chants.
James' recent departure from the Cleveland Cavaliers to the Heat caused a lot of anger in the city.