Washington Nationals pitcher Miguel Batista inadvertently insulted a certain beauty pageant winner Tuesday night when he said the following quote while interpreting the boos he heard upon being announced as the emergency starter in place of injured Stephen Strasburg: "Imagine if you go to see Miss Universe, then you end up having Miss Iowa, you might get those kind of boos.''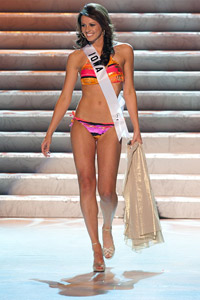 Miss USA Pageant This year's Miss Iowa USA pageant winner, Katherine Connors, won't be booed by Page 2 anytime soon.
Quotes like that are one reason why I have always liked Miguel Batista. Of course, the current Miss Iowa, Katherine Connors, isn't quite as big a fan. Responded Connors in the Des Moines Register: "I know I can throw a pitch or two! The question is, can Miguel Batista walk the runway in a swimsuit?" (Page 2 hopes we don't find out.)
Batista apologized to Miss Iowa, sending her flowers and explaining to the Washington Post that what he meant was, "People started booing me, and they hadn't seen me throw a pitch yet. It's like you hear 'Miss Iowa,' and you say, 'Iowa?' And then you see her up close and you say, 'Wow, she's gorgeous.'"
For the record, yes, she is. In fact, she's reason enough for a "Field of Dreams'' remake ...
JOE JACKSON stands in the sandlot that RAY KINSELLA built on his farm, After so many decades in the wilderness, he can't believe his fortune. He tries to take it all in. The smell of the ballpark in his nose, the coolness of the grass and the thrill of the vision standing in front of him: KATHERINE CONNORS wearing a string bikini.
SHOELESS JOE: Is this heaven?
RAY: No, it's Miss Iowa. But calm down, big guy. She's dating Derek Jeter.