Dearest Diego,
We're going to miss you.
Ever since the Argentine Football Association unanimously voted Tuesday to replace you as the national team's manager, there's been a void in our lives. Sadness fills our hearts -- sadness that was once jubilation as we watched you prance the sidelines during the World Cup, delivering hug after hug and kiss after kiss. What will we do without you, Diego?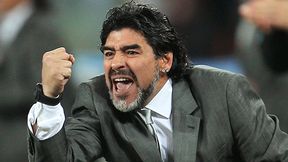 Chris McGrath/Getty Images
Who's going to be the curator of the Pelé museum? Who's going to threaten promise to streak through the streets of Buenos Aires if Argentina wins the next World Cup?
We'll forgive you for insulting media everywhere and running over a cameraman's leg with your car and subsequently cursing him. We'll forgive you for bawling after the humiliating 4-0 loss to Germany in the quarterfinals, for the two-month ban in 2009 and for creating a "firing squad" during practice to punish the losers of a scrimmage.
You deserve better, Diego. You deserve six PlayStations -- because five is sinfully too few. You deserve your bedroom to be painted white -- heaven help us if it's eggshell white. Most importantly, you deserve the finest bidets in all the land, ones that will keep your backside fresh and dry. The world's best coach has no use for toilet paper.
Although you're out of the game, you can still get back in the game. Two words: reality TV. We suggest a Maradona dating show in the style of "The Bachelor," called "Marry-dona: One Man-Child's Search for Love." Twenty beautiful fans will vie for your heart. But instead of snubbing the losers by refusing to hand them a rose, you'll kick a soccer ball into their faces. Or punch the ball -- we know you're good with your hands, too.
Give it time, Diego. You'll be back to mocking and insulting Europeans soon enough.
Sincerely,
Your friends at Page 2