Pac-10 commissioner Larry Scott held a conference media day in New York City this week in which he skillfully generated a lot of national buzz focused on how the conference is supposedly stodgy and irrelevant beyond the West Coast while he also bragged about how his genius would change all this. Because, after all, who has ever heard of USC football or Arizona and UCLA basketball or the University of Nike outside of the Pacific Time Zone? That's why Scott shrewdly expanded to the glamour that is the University of Utah.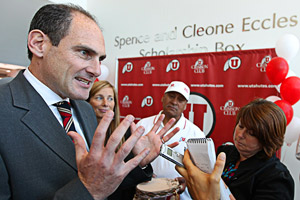 George Frey/Getty ImagesPac-10 commissioner Larry Scott couldn't wait to get his hands on the coveted Salt Lake City TV market. Could expansion to the United Kingdom be far off?
That's not all. Page 2's dubious network of sources offers details of other moves you might not have heard about from Scott's PowerPoint presentation in New York:
"The Pac-10/12 needs a bold new TV package, but it can't do that if we're still wedded to its old school Pacific Time Zone game clock. From now on, we're starting 'Tailgate at Wimbledon' with all football games kicking off at 4 a.m. so they can be shown live in London on the BBC. That extends our reach to the Greenwich Mean time zone, adding 100 million TV households -- which will really come in handy when we expand to the Pac-14 by adding Oxford and Cambridge.
"I'm also working on an exciting AM/shortwave radio deal with Radio Free Europe. The Steve Sarkisian coach's show is going to absolutely kill in Armenia!