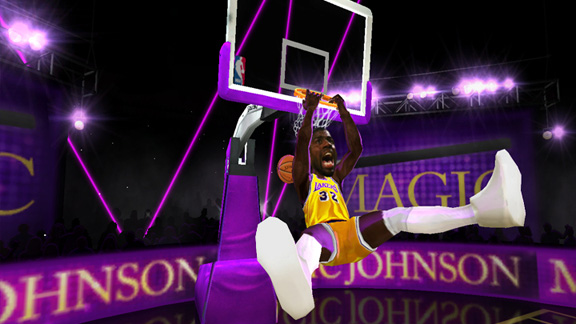 EA SportsMagic Johnson joins the "NBA Jam" roster.
"NBA Jam" boss battles?
For "Jam" purists, EA Sports' new version of the classic 2-on-2 arcade game has all the boomshakalaka you could ask for, but they've also decided to put their own unique twist on the genre.
When Wii gamers aren't battling friends, going all "Is it the shoes?" on LeBron's head, they can test their skills in the cool new Remix Tour mode.
Here, gamers will encounter not only the biggest stars of the NBA today, but legends like Magic Johnson and Dennis Rodman, as the greats of basketball past defend their home courts in a series of boss battles the likes have never been seen in a hoops game.
I caught up with "NBA Jam" creative director Trey Smith to get the latest on the Remix, the legends and how, in "Jam" at least, the word Magic is more than just a nickname.
Jon Robinson: How many boss battles will gamers encounter in "Jam"?