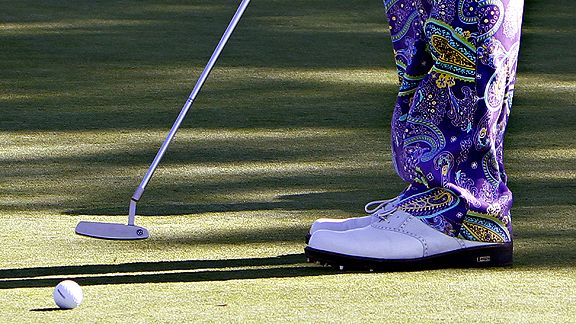 AP Photo/Chris CarlsonAll eyes are on John Daly's wacky pants just as much as his swing.
Clothing keeps popping up in the news recently.
Yes, it is that slow a news week.
One of the big stories was that Jockey announced it had signed Broncos rookie Tim Tebow to a three-year deal to be an underwear spokesman. Somewhere Joe Namath is crying in his pantyhose.
This is the third major corporate sponsorship for Tebow since he was drafted. It makes you wonder what kind of offers he will get when he finally throws a pro pass? If he scores, he'll probably become the state's governor -- wearing his Jockey shorts.
And in other clothing-related news, golfer John Daly tweeted: "Wallpaper in the Greenbrier Hotel has really been giving me some new print ideas for Loudmouth pants hanging around here! LOL. I love it!"
Meanwhile, the Greenbrier Hotel is considering suing for defamation of wallpaper.
Incidentally, Turner Sports and the PGA of America said the first two rounds of the 2010 PGA Championship will be televised in 3D Aug. 12-13.
OMG, will that include Daly's pants?
Now some tidbits before we get to the main courses of this Sunday Brunch: