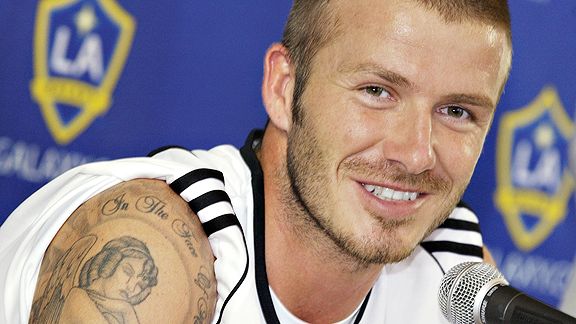 AP Photo/Lisa PooleDavid Beckham signed a monster, regrettable contract with the LA Galaxy.
Before any more general managers get carried away with doling out huge sums of money, they might want to take a look at what we think are some of the most regrettable contracts in sports history.
10. Rick DiPietro (New York Islanders, 2006) 15 years, $67.5 million
Fans in New York that haven't had a chance to see DiPietro in action firsthand need not fret, there's ample time. The Islanders will fork out $4.5 million a season to the injury-prone goaltender until 2021.
9. Allan Houston (New York Knicks, 2001) 6 years, $100 million
Just four years after he signed, Houston suffered a career-ending knee injury. The Knicks were left to pay out the remaining $40 million.
8. Steve Young (Los Angeles Express/USFL, 1984) 10 years, $40 million
Two years after the Express inked Young to a record deal, the league went belly up. But because of a litigator's ruling, Young has been collecting $1 million year from the Express and will through 2027.
7. Mike Hampton & Denny Neagle (Colorado Rockies, 2000) 8 years, $121 million & 5 years, $51.5 million, respectively
The Rockies signed this pair of All-Star hurlers to ridiculously over-priced deals. Hampton, who became the highest-paid pitcher in history at the time, cost the club $61 million in two seasons before trading him to Atlanta. Neagle had a losing record in three seasons before going down with multiple arm injuries.
6. David Beckham (Los Angeles Galaxy, 2007) 5 years, $250 million
This deal seemed absurd at the get go, and gets worse every day that Becks doesn't put on a Galaxy jersey. When he's been healthy, Beckham's had just seven goals in 45 games, failing to help turn the Galaxy into a winner, or turn the MLS into a brand name.