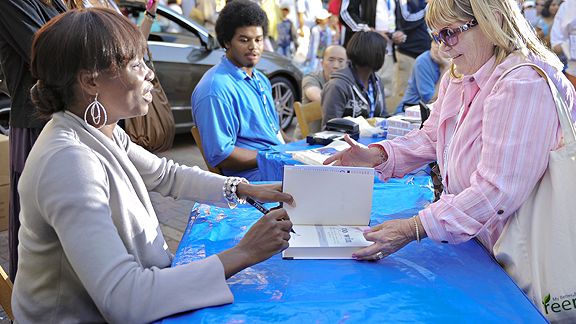 AP Photo/Mark J. TerrillVenus Williams signed copies of her book "Come To Win" while in Los Angeles last week.
Venus Williams thinks she's too young to have a bucket list.
"Shouldn't I really be older to have that?" said the 30-year-old Williams, who has won 21 Grand Slam titles and three Olympic gold medals. "I've been living a dream on the court and now I'm doing things off the court."
Like writing a New York Times best seller.
Williams tackled her first book, "Come to Win: Business Leaders, Artists, Doctors and Other Visionaries on How Sports Can Help You Top Your Profession," which debuted at No. 5 last week.
"OK, maybe I wasn't ever thinking of writing a New York Times best seller! Being on that list is way beyond my dreams," said Williams, who, along with journalist Kelley E. Carter, conducted the interviews in the 357-page book. "It was really amazing for me to write. I know what you writers go through now. I was so nervous, but it was such a positive experience."
Williams talked to more than 50 business leaders, such as Nike co-founder Phil Knight (running), former President Bill Clinton (rugby), NBA Hall of Famer Magic Johnson (basketball) and even fashion designer Vera Wang (ice skating), about how sports helped them succeed off the field.
"I learned something from all the contributors. I loved listening to their stories," said Williams, who has also developed her own clothing line. "I also learned something about myself, in the process. I know I can be better."
Despite the success, Williams isn't giving up on her first love: tennis.
"I was born to play," said Williams, who turned pro at 14 and is preparing for the U.S. Open in three weeks. "I've always wanted to raise that Cup or raise that plate. I never really get tired of that."