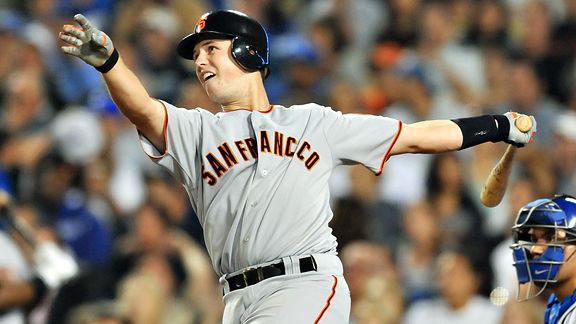 Jayne Oncea/Icon SMIWhile the East Coast was sleeping, Buster Posey was lighting up the National League.
Welcome back to Three Up/Three Down, where we look at which athletes, trends and gear are running hot and running cold in the sports memorabilia world.
Matt Lane, vice president of Sports Images Inc., provides the official 411 on this ever-changing industry.
THREE UP
Buster Posey: Like his teammate Tim Lincecum, it takes a while for a West Coast rookie to catch on as far as retail sales. A 21-game hitting streak, a .427 batting average in July and, most importantly, the dip by fellow rookie Stephen Strasburg, has shot Posey to the top of the charts.
Wes Welker: A better-than-average seller before his injury, Welker's early return to the playing field has helped make all things No. 83 hotter than ever.
New York Jets: While Darrelle Revis' holdout has hurt his own sales, the national exposure of "Hard Knocks," the colorful personality of coach Rex Ryan and the expectations of the season has put Jets gear on the rise.
THREE DOWN
Brett Favre: While Favre used to be a big seller out of the Green Bay market, changing teams twice and then offering up another retirement has hurt his national appeal (and sales). Still, he will always be considered a Packer. Expect the Green Bay gear to pick up in a year or so.
Terrell Owens: The worst thing you can do in the memorabilia market (or any market) is sign a one-year deal. No one wants to spend $230 on an authentic Bengals jersey when it could be obsolete in a year.
Stephen Strasburg: Ever since word got out that Strasburg had shoulder inflammation, memorabilia sales have come to a halt. Fans and retailers are worried that Strasburg might be another Brien Taylor, Kerry Wood or Mark Prior.