Here we are, the day after, and there's still no official official word from Brett Favre or the Vikings on his possible retirement.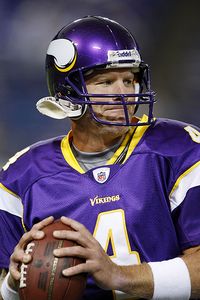 Bruce Kluckhohn/US Presswire
Although there's been a lot of jesting about how we can't get enough of Favre and don't want this annual summer dance or his career to end, I'm here to say that, uh … I wouldn't mind if dude calls it quits. Not because I don't enjoy watching him throw a football, but because I've spent the past 10-plus seasons suffering from Favre hyperbole exhaustion.
Favre won his first MVP when I was in high school, and it hasn't stopped since.
Favre slaps a dude on the rear after a touchdown: Look at that madcap enthusiasm, folks! The guy's grinning from ear to ear. Who has more fun on a football field than Favre? It's like a kid swimming in a pool of ice cream.
It's third and 18, and Favre throws into quadruple coverage and connects for 11 yards: There's that gunslinger mentality. He's a swashbucklin' son of a gun, ain't he? Holster that thing, Brett! Holster it!
Season after season after season! Favre wouldn't just play this game for free; he'd probably pay Roger Goodell to play. And: Favre and football is one of history's great love affairs. And: Look in the dictionary next to the word "warrior" and you'll see a picture of Favre's heart. You'll know it's his because it has five o'clock shadow. And: blah, blah, blah.
I'm ready for the lionization to end. It needs to end and never happen again. Maybe that's why, if I'm being honest, I kinda hope Tim Tebow doesn't make too many Pro Bowls.