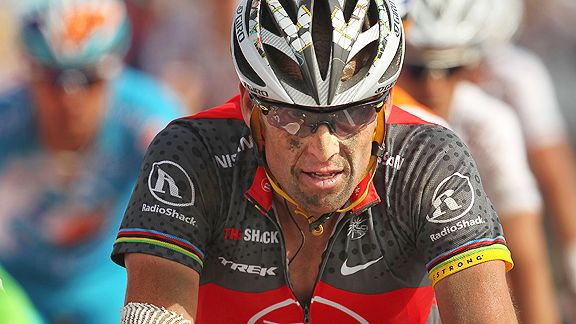 Spencer Platt/Getty Images
Just when he thought he was out, Lance Armstrong gets pulled back in.
The 38-year-old cyclist says he feels all of his years these days and notices how long it takes him to recover from a big crash, much unlike when he was, say, in his 20s. That said, he's still on the fence about whether or not he'll ultimately jump back on a bike in any competitive sense.
But you better believe he's thinking about it.
On Wednesday, the seven-time Tour de France champion announced plans to hold an international pro-cycling competition in Colorado, scheduled for August 22-28, 2011. The Quiznos Pro Challenge will bring back competitive cycling to the state; formerly there was the Colorado-based Coors International Bicycle Classic, which ran from 1979-1988. The big question: Will Armstrong get on a bike himself and go the distance? He laughs before answering.
"I'm undecided on that," he chuckles. "I don't know what my future holds in terms of competitive races. I just finished a tour a week ago, and I went for four hours on the mountain bike earlier [Tuesday] just because I felt like it. We'll see."