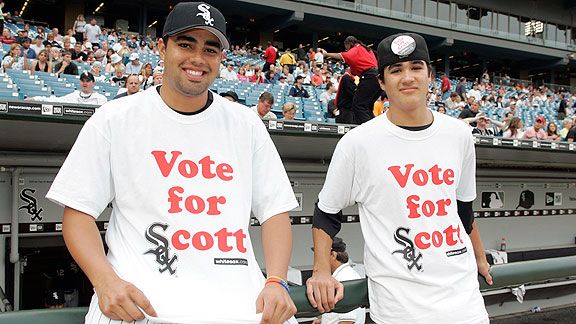 Ron Vesely/Getty ImagesOzzie Guillen Jr. (left) and Ozney Guillen show off "Vote for Scott" Podsednik T-shirts in this '05 photo.
CHICAGO -- When Ozzie Guillen popped off Sunday about how poorly he thinks Latin players are treated by Major League Baseball and its teams, it was, well, just Ozzie being Ozzie.
Guillen's rant about how he thinks Asian players receive preferential treatment as compared to Hispanic players was the same Ozzie who his family sees every day.
"I think he's a bit more calm off the field, but always very straightforward," Ozzie Jr. said. "My Dad's always been a straight shooter. Just be honest and face the facts. For me, [that attitude] was normal. I liked that it was very honest -- no illusion."
That direct nature is something that Ozzie Jr. knows plenty about. As the play-by-play broadcaster for the Spanish-language station WRTO 1200 AM, the 26-year-old Ozzie Jr. will broadcast approximately 50 of his father's games while also working as a public relations intern for the White Sox.
When he's broadcasting, he'll take his Dad's advice -- say what you mean, no matter who you are talking about.
"In the beginning of his broadcasting [career], he was calling me 'Dad' and he wasn't calling me 'Ozzie Guillen,'" the elder Guillen said. "I told him, 'When you're in broadcasting, we're not family.'"