Last month, my man Scoop Jackson recalled this quote from a young Shaquille O'Neal: "At 30, I'm out. I ain't playing 'til I'm 40. Derek Harper is a better man than me."
Crazy, right? Because, now, with Shaq signing a two-year deal with Boston, that is expressly what Shaq desires. He's under contract to play 'til he's 40.
Some folks never paid Shaq's "retire at 30" rhetoric any mind. One colleague of mine said Shaq spouted it so much back in the day, and it was so unbelievable, that he didn't even bother transcribing it from his recorder.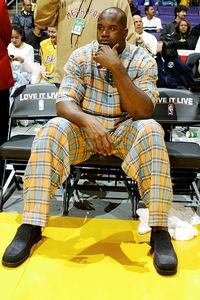 Catherine Steenkeste/NBAE/GettyShaquille O'Neal didn't retire in '02. Fortunately for all, this outfit did.
But, as a teenager back then, I really believed the Diesel was going to be our generation's Jim Brown.
Brown, for those who don't know or recall, played nine NFL seasons, set rushing records, won championships and then, at age 29, retired to Hollywood to star in flicks such as "Black Gunn" and make movie love to Raquel Welch in "100 Rifles."
Shaq was a new, Gen-X breed and got a jump on Brown. Diesel was doing his off-court celebrity thing almost immediately after he was drafted in 1992. The very next year, his "Shaq Diesel" album went gold. He went gold again in '94 with "Shaq Fu: Da Return" ("No Hook" with Wu-Tang's Method Man and RZA was a legit rap song and video). That same year, he starred in "Blue Chips." In 1996, Shaq had everyone from Mobb Deep to Jay-Z to Biggie to Rakim on "You Can't Stop The Reign." Shaq wasn't ill like fellow Jersey-native Redman on the microphone, but Rakim and Biggie weren't turning up on Ricky Watters' album.
Shaq was a much worse actor than Brown. "Kazaam" and "Steel" were atrocious (Shaq got a Razzie Award for "Steel"), but that wasn't the issue. The issue was that Shaq was turning into a B- or C-rate action star.
He did all this, plus led the league in scoring, reached the Finals and get selected as one of the NBA's Top 50 -- all before he was 25 years old. So, to me, as a teenager, it seemed semi-believable that Diesel wasn't bluffing, that he'd win a few rings and MVPs in the next five years and then do his Jim Brown thing, especially after he moved to L.A.
We know, however, why he didn't retire at 30 -- and it wasn't just "Kazaam." On March 6, 2002, his 30th birthday, Shaq was the best player in basketball, his Lakers were on the way to a three-peat and he was set to make $20-plus million in each of the next couple seasons -- quadruple what he was making back in the mid-1990s. Retiring then would have been like if Jay-Z actually retired after "The Black Album."
But, now? The Diesel is closing in on 40 and making what is pennies in his world. He's literally a punchline. Watch Kevin Hart's new comedy special where he goes on for about three minutes about how awkward Old Shaq falls, these days. That's exactly the kind of stuff Young Shaq used to clown back in the '90s -- old dudes geriatric-balling well past their primes.
Jim Brown? Nah. Robert Parish.