If the Miami Heat's new coalition began alliance talks in Beijing in 2008, then perhaps the Boston Celtics' new roster has been even longer in the making.
With the signing of Shaquille O'Neal, Boston now boasts more than 20 percent of the players from the 2004 All-Star Game. Shaq (the game's MVP), Jermaine O'Neal, Paul Pierce, Ray Allen and Kevin Garnett all participated in the '04 festivities and have reunited six years later in Beantown.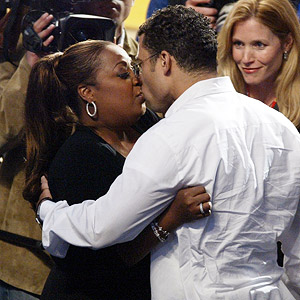 Bruno Vincent/Getty ImagesDon't forget that the 2004 NBA All-Star Game was also the site of Al Reynolds' proposal to Star Jones.
But what about the other players from the 2004 All-Star Game? Rest assured, Page 2 hasn't forgotten about you.
Allen Iverson: A.I. threw up a clunker as the East's point guard in '04, finishing with three points, the lowest of any starter. He must have been upset at his performance, because he went to a casino nine days later, allegedly urinated into a trash can and was banned from the establishment.
Europeans: Andrei Kirilenko (Russian), Dirk Nowitzki (German) and Peja Stojakovic (Serbian) struggled to shine at the Staples Center, combining for just nine points in 38 minutes. No need to panic, though; all three are still in the league, which is more than can be said about '04 All-Stars Steve Francis, Sam Cassell and A.I.
Ben Wallace: Afro jokes aside, Wallace was the inside presence who helped deliver the Larry O'Brien Trophy to Detroit in 2004. But he'll forever be remembered as one of the worst free-throw shooters ever (.417 for his career). This could have been due to his poor shooting form, or it could have been the unlucky black cat that took residence atop his skull. OK, so we lied about canning the hair jokes.
Double-D brothers: Jason Kidd and Michael Redd are the only two current NBA players whose one-syllable surnames end in double consonants that aren't "ll" So … yeah … good to see they still have that going for them.
Ron Artest: He's found a new home in Los Angeles and was invaluable during the Lakers' championship run, but we'd rather have Artest explain his own worth (Aug. 17, 2009, via Twitter): "I WILL BE THE BEST ROLE PLAYER EVER. WITH THE BEST DEFENSE. ALSO I WILL HAVE THE BEST MOONWALK … ILL MOONWALK WITH ONE LEG AND A HAND. I DANCE LIKE USHER." It burns the eyes just to read.