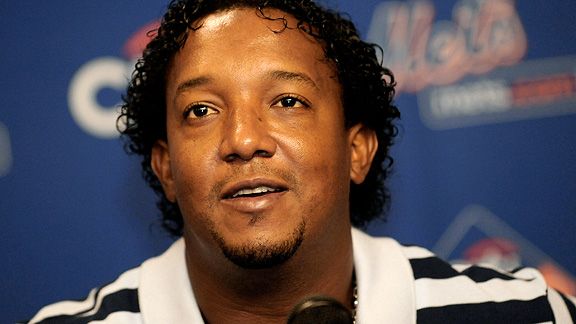 AP Photo/Paul J. BereswillPedro Martinez wants everyone to know that he's not retired. He's just taking a break.
Pedro Martinez is going to Disney World!
With his family of course. For the first time in 18 years Martinez isn't on a MLB roster in August. Originally he was holding out hope that someone would need his services like the Philadelphia Phillies did midway through last season. But he hasn't thrown off a mound in months and has decided to focus on other things this summer.
"I've been spending a lot of time with my family and my foundation, helping the kids in the community," Martinez said. "Believe me, I have my hands full."
When he decided not to play this season, one of the first commitments he made to his kids was a trip to Disney World. It hasn't happened yet and they aren't letting their dad forget.
"They're killing me about it," said Martinez, who's also spending part of his summer with the Gillette Proglide Ultimate Summer Job Tour. "We're in New York right now. They're checking out the Statue of Liberty. Then we're going to Boston and then Disney."
Not that he needs another vacation. The past few months Martinez and his family split time between his native Dominican Republic, New York and Miami. He loves the perfect weather of South Beach and can't get enough of the sand and surf.
"I'm busy with my boat," he said."I'm always in the water. It's the safest place to be."
Martinez also wants to make sure no one thinks his MLB career is over.
"I'm not officially retired. I don't want to go through what Brett Favre is going through now," Martinez said. "I don't know what I'm going to feel when my kids go back to school."