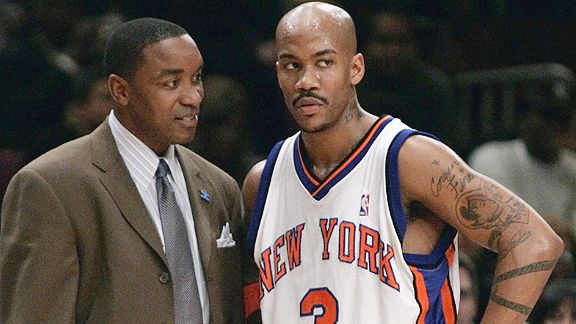 AP Photo/Julie JacobsonIsiah Thomas' return to the Knicks has many New York fans feeling some nasty deja vu.
Isiah Thomas joined Dan LeBatard on 790 the Ticket in Miami to talk about his return to the New York Knicks and the precedent of working in the NBA while keeping his current job as head coach of the FIU basketball team.
On the lack of precedent for professional consulting from a college coach:
"That's true. This is one of the first times that I can remember this being done. I'm happy that it works out for FIU that I will still be here coaching. I think we are building a fantastic program. We have good recruits coming in. We are in on a lot of the top recruits. I'm excited about what we are building here. And also having the possibility of building the Knicks towards a championship. Lord knows we have our hands full with what they have put together here in Miami ... It really is just consulting. It all depends on what Donnie is asking me to do and what the Knicks are asking me to do. If they want my advice on the phone or want my advice on a meeting, I will make myself available. But my first priority is FIU."
On concerns that he may soon leave FIU to return to the NBA on a full-time basis:
"With any coach in college right now, whether it be basketball or football, I think that any fan of that school has that question about his or her coach. I want to put that rumor to rest. But, if I was to leave FIU, the only positions that I would be interested in looking at would be to be a general manager for a team or consulting or advising with a team. I don't see myself coaching in the NBA. I don't have any interest in coaching in the NBA ... I don't have to take any job, although there will be some jobs that are appealing to me if they were to open. However, I wouldn't take just take any job to be a general manager in the NBA."
On if he thinks the Heat will win the next NBA championship:
"You can't answer that with a yes or no. There is three or four teams that I think that you really have to think about. LA, Boston, Miami and Dallas. Those teams are pretty good. It takes more than just talent. You also need a little luck sometimes also ... I totally disagree with what Magic and Michael have said. I think that those two tend to forget how good of players they had on their team."
On the likely negative PR impact of the Knicks bringing him back:
"Donnie Walsh and I and Jim and I, we've have always had great respect for each other. Donnie and I have worked with each other. Actually, Donnie gave me my first job in the NBA in terms of coaching with the Indiana Pacers. The relationships that we have and our ability to work together and understand how tough it is to win in New York and try to assemble talent to go out there and compete, I'm glad they have given me the opportunity to come back."
And on being re-hired after a messy split with the Knicks including a sexual harassment suit:
"I've always maintained my innocence. That's how I explain that situation. And also, there was a lot going on in my life at that time also. My mother was dying. I had been falsely accused in my mind of this horrible thing. We went to court to prove it and we lost and we moved on. I think that the press release that was released after the trial one of the things that was said is that we did not believe that the jury got it right."
• Click here for a transcript of highlights from the interview