This past weekend, President Obama played a star-studded pickup game before an audience of wounded troops.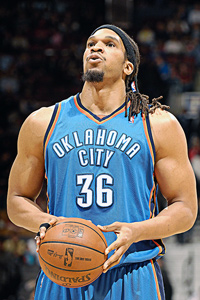 Ron Turenne/NBAE/Getty Images
The lineup was as strong as any outside of Team USA Olympic practices. LeBron James, Dwyane Wade and Carmelo Anthony took the floor. Magic Johnson and Bill Russell coached, and Kobe Bryant was in attendance.
But when purported superstar Chris Bosh wasn't there, Etan Thomas apparently got the call from the commander in chief.
It wouldn't have been the Dream Team without Christian Laettner, right?
Aside from giving Obama an excuse to not invite Brendan Haywood, we're at a loss for how Thomas snuck into Fort McNair for this one. While Thomas' title as poet laureate of the NBA is undisputed -- you've got work to do, J.J. Redick -- who knew it could get him on the court with the president? Everyone knows being 6-foot-10 can keep you in the league, but it can get you in with Obama, too? Thomas doesn't even play for the Washington Wizards anymore. He plays for Oklahoma City.
If Thomas can work his way in with the best of the best, I'll start preparing in case the president asks me to come on the court.
The Supreme Court.