Ten years ago in Omaha, Houston Alexander worked road construction and began fighting mixed martial arts. Growing up entrenched in the city's hip-hop scene, Houston was a young graffiti artist and break dancer and later landed a job as a DJ at a local radio station.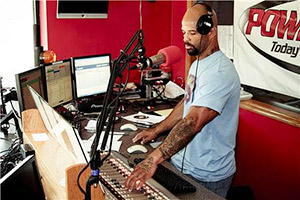 Courtesy of Marie YoungMixed-martial arts fighter Houston Alexander is known as DJ Strong Arm in Omaha.
He remembers his first show like it was yesterday. "I got shot the night before my show. It was after hours and I went to get a burger and someone slapped a friend of mine. I told the guy to sit down and words were exchanged," Alexander said. "After I left the emergency room, I went to my radio show a couple hours later."
Today, the show and the man live to fight another day.
While MMA fight fans know him as "The Assassin", the 6-foot, 215-pound Alexander also goes by "DJ Strong Arm." He hosts "Sunday Night Raw" on Power 106.9 FM in Omaha. For those three hours, Houston combines his love for music, hip-hop culture and the community.
With an MMA record of 17-10, Alexander co-headlines "Shark Fight 13" and will face Rameau Thierry Sokoudjou on Sept. 11 at the Amarillo Civic Center in Texas. With a victory, Alexander hopes to return to UFC -- where a loss to Kimbo Slice last December resulted in Dana White releasing Houston from his contract.
"The Kimbo fight was a disappointment, but it was also a wake-up call," said Alexander, who is working out seven days a week to prepare.
But besides training, Alexander remains active in his community, and he shares his story and teaches kids there is a way out instead of crime.
"No one expects anything from our community so it's nice to get recognized and show hope and drive for the kids," he said. "And people always ask me why I live here. But I have grass roots here. I can't just pack up like that."