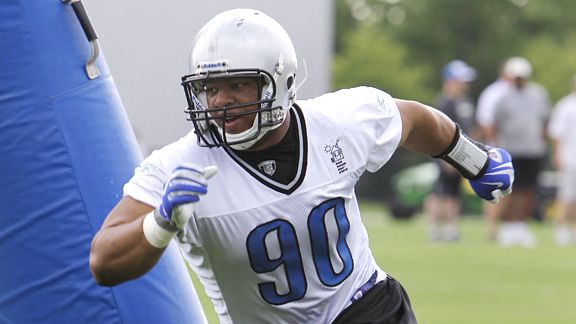 AP Photo/Paul Sancya
Every Friday through the Super Bowl, David Fleming will check in with 12 things about the NFL. This week, he shares his thoughts about Lions rookie Ndamukong Suh.
Michael Suh never mentions the money. Not once does he talk about his son Ndamukong's new five-year deal with the Detroit Lions that could be worth as much as $68 million. He doesn't talk about the NFL draft, either, or the Heisman race, or even the fact that, while at Nebraska, Ndamukong was widely regarded as the most dominant and decorated defensive tackle in college football history.
Instead, when asked about the 12 moments that define Ndamukong Suh's life, his father first focuses on a summer day in 1996 when, just before leaving for work, he saw Ndamukong quizzically eyeing the family's new, expensive phone and answering machine.
1. Summer, 1996: Ndamukong finds his "calling."
Michael Suh: "He grew up taking everything apart. When he was nine, we got a phone with an answering machine that talked back to you. I think I paid $200 for it and I could just tell he was dying to figure out how it worked. When I left for work in the morning he had already started taking it apart and by the time I got back that night he had already put it back together and it worked with no problems. He was just curious about how the phone worked. He plays football exactly like that; he strategizes and talks about it and nails it down to a tee. Then he deconstructs it to figure it out, like he did with that phone."
Ndamukong Suh: "I've always been bigger and stronger, always the big kid. But I don't want people saying all I do is rely on those gifts, so that challenged me to always refine things and find better ways to do things. It's why I like engineering and math. You break things down to see how they work, how every little tiny thing fits together. That's how you go about playing football in the trenches. That's how you beat the guy in front of you, by breaking down what works and what doesn't work as the game goes on. I figure out the pieces of the puzzle and I solve it.
"What drives me, by nature, is being the first to master something. When a coach adds a new twist or a scheme, I want to be the first to figure that out. I never, ever want to be corrected twice on something."
• Click here to read the entire Insider article from David Fleming

• Click here to read David Fleming's Insider article "Ndamukong Suh's arrival"