Another year of gearing up for the gridiron, another year of news outlets picking up on some social-media indiscretions.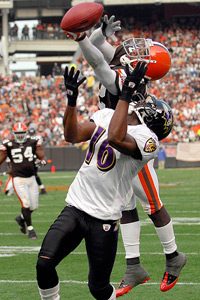 Jason Miller/US PresswireCleveland cornerback Brandon McDonald got a little catty on Twitter in a comment about Terrell Owens.
Cleveland Browns cornerback Brandon McDonald called out Terrell Owens with a vulgar tweet. Days later, coach Eric Mangini was lecturing his team about the proper use of the platform.
Eagles offensive lineman Todd Herremans, in a tweet about the HBO show "True Blood," wrote "not a fan of how they get u hooked w/ 2 seasons then bring on barrage of homosexuality."
After speaking with Eagles management, he later apologized.
And then there was Boise State coach Chris Petersen who, unprompted by any specific incident, banned his players from Twitter this season. He's not the first coach to go this route.
"It's just a distraction that we just don't really need to have right now. There's plenty of time in their lifetime for Twitter," Peterson said about the ban, according to the Idaho Statesman.
Last year around this time, I argued that Twitter felt different and less formal to athletes as compared to a traditional press conference -- even though both are in the public realm.