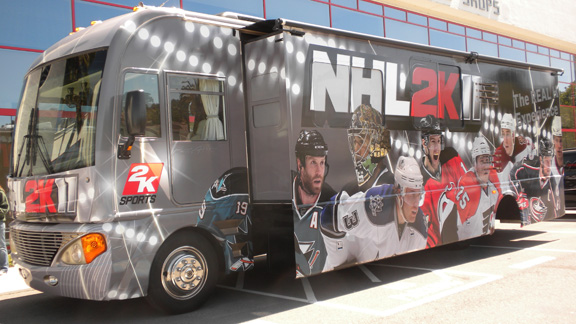 Jon Robinson/ESPNCatch the "NHL 2K11" RV when it heads to a city near you.
Ben Bishop has to be one of the busiest men in all of sports gaming. Jumping from his work on "MLB 2K10" into his main gig on the "NHL 2K" series, Bishop is also working heavily on "NBA 2K11 " for the Wii.
Talk about dedication to his craft.
I recently had the chance to sit down with Bishop after an extremely bumpy ride in the "NHL 2K11" RV that 2K Sports is currently sending on tour throughout the country complete with flat-screen monitors and gaming stations in order to let fans get their hands on early builds of the game.
And while we all figured out the hard way that motion controls and motion sickness don't mix (especially when there are beers involved, not to mention fires on the side of the freeway), once the RV stopped and we hit our destination, I got my hands on the game and was pleasantly surprised.
I'm not much for sports sims on the Wii, but this game had me hooked, especially when playing four players. From broken sticks to signature plays on the breakaway, this might be one of the few sports games I would actually buy for the Wii ("Tiger" and "NBA Jam" also come to mind).
So what should gamers expect from the Wii-exclusive title this year? Here's what Bishop had to say.
Jon Robinson: Why is "NHL 2K11" Wii-only?