After all these years, Cal Ripken Jr., Al Munro Elias, Henry John Heinz and Todd McFarlane finally have something in common.
They all appear in a set of baseball cards.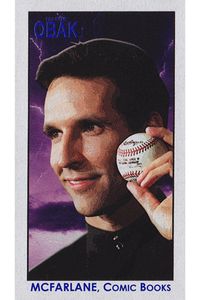 tristar obak cardsTodd McFarlane is part of a new trading card set.
At first glance, this year's edition of TRISTAR's Obak seems like your standard retro-styled card set -- it's modeled after a line of early 1900s tobacco cards of the same name and the cards look like they could have been pulled out of a pack of cigarettes years ago.
However, a closer look at the checklist offers a history lesson in the game not seen anywhere else -- and there's no tobacco (or even bubble gum) included.
While the Houston-based card company includes all-time greats like Ripken and Hank Greenberg along with a crop of promising minor league prospects, it's a crop of "game changers" in the set that will get collectors -- and probably other sports fans -- talking.
That means a card of Elias, the founder of what is now the Elias Sports Bureau, the official statistician for most pro sports leagues in the country. That means a card of Heinz -- yes, the ketchup magnate -- along with a mandatory card of Harry M. Stevens, who is believed to have introduced the hot dog to baseball.