We're in the dog days of August, so naturally you're thinking about -- the NBA?
Eh, probably not. But three NBA teams unveiled new uniforms on Monday anyway. Let's take a look: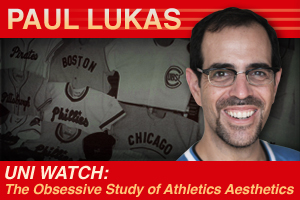 • Timberwolves: If you compare the old and new designs, what do you see? Well, the really annoying number font is now a little less annoying, so that counts as progress. And the odd collar has morphed into a more standard look. But the big change is that green has been banished from the color scheme, and that's kind of a problem for a team that was using green to define the tree-line motif. So now we have black trees and white trees, which will make for a great promotion if the Minnesota woods are simultaneously struck by a blizzard and a forest fire. Aside from that, though, the tree-line concept no longer makes sense. So when we apply the standard Uni Watch litmus test -- is it good or is it stupid? -- this one comes down solidly on the side of stupid.
• Clippers: Ah, the Clippers. Are they still in the league? Does anyone care? This is a team that could really benefit from a complete redesign -- new colors, new logos, new everything. Instead the Clippers have gone for a few incremental tweaks (lots of additional photos here). It's not bad -- heck, the old look wasn't bad, either -- but it isn't the new direction this franchise desperately needs. As for specific details, the little notch in the collar is interesting, but the secondary logo at the base of the collar is sitting too low, which is pushing the chest insignia too far down, especially on the road jersey. But whatever -- the problem here is in the big picture, not the small details. Stupid.
• Jazz: Yes, they should have changed the team name when they left New Orleans. We all know that. But the team name didn't change back then, and it ain't changing now. And once you accept that, it's hard to argue with this redesign. Seriously, what's not to like? The team name may be stupid, but this uniform is seriously good.
More to follow soon, as the Cavs will be griping about LeBron unveiling their new uniform Tuesday evening. Stay tuned.