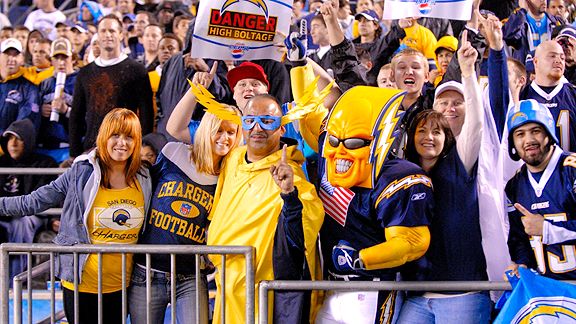 Courtesy of Dan JaureguiIf you have the money, you can buy the rights to "Boltman" and become a mascot.
For the low, low price of $75,000, you could be an NFL mascot. Yep, that's right, San Diego Chargers fan Dan Jauregui is done being "Boltman," the muscle-bound mascot with a lightning strike for a head, and he's selling to the highest bidder -- unless that happens to be a Raiders fan.
"I wouldn't sell it to Al Davis, if he called me up himself," Jauregui said, despite a report in Saturday's San Diego Union-Tribune that said he won't turn a Raiders fan away.
"Absolutely not," he said when asked if he'd sell to someone in Silver and Black.
Jauregui posted two "Boltman" suits and all the intellectual property associated with the character for sale on eBay on Aug. 14. The auction ends just after midnight ET Thursday, and the winner must pay in cash, with a wire transfer or a cashier's check.
The Chargers had no comment when asked about the sale of the "Boltman" suits, but in Saturday's Union-Tribune a team representative said it is not interested in purchasing the suits. Jauregui hopes they know what they're doing.
As of Tuesday, nearly 3,000 people had viewed Jauregui's eBay posting and he said he's got a handful of prospective buyers.