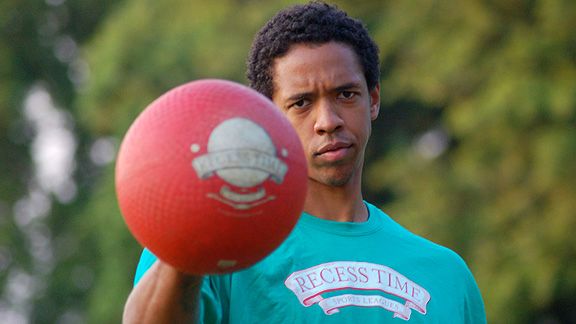 Courtesy of Colleen Finn/Recesstime Sports Leagues Channing Frye is hosting a charity kickball tournament this weekend in Portland.
TUALATIN, Ore. -- Imagine staring down a 6-foot-11 pitcher on the kickball field 14 paces away from home plate. Now imagine that pitcher is really a well-conditioned NBA player.
As Channing Frye prepares for his second season with the Phoenix Suns, he is using kickball as part of his summer workout -- and he's got a nasty fastball.
"We don't get too many NBA guys out at our fields," said Colleen Finn of Recess Time Sports Leagues, who was a former field hockey goalkeeper at the University of Louisville before settling in Portland. "He really helps on the pitcher's "mound." The pitching in our league can be pretty competitive so it can be hard to get a hold of the ball and keep it fair. He has some mean ball handling skills plus with his reach, anyone kicking against him is going to have to get it out of the infield if they want any chance of getting on base."
Kickball for adults is a far cry from kids chasing after a rubber ball or running the bases at recess.
"Kickball is hard, man. I played my first year in Portland and it is a workout," said Frye, who spent two seasons with the Trail Blazers.
Starting Aug. 21, Frye will host his Kick for Kids Kickball Tournament in Portland. The event, in its first year, is presented by the Oregon Active Foundation and the Channing Frye Foundation and will be sponsored by Recess Time Sports Leagues. Built as an all-day family event, the over-18 year-old round-robin tournament includes 36 teams and will feature tunes, eats, the customary microbrew garden, yard games and even a bounce-castle for the kiddos.