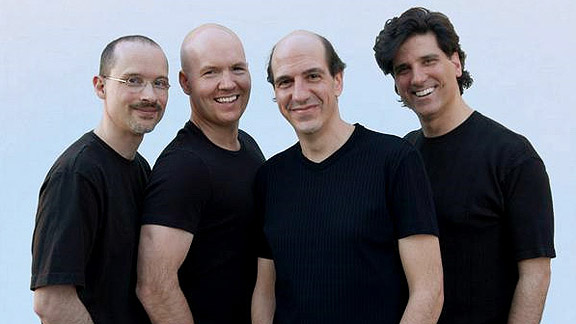 Courtesy of The BlanksThe Blanks are Paul Perry, Philip McNiven, Sam Lloyd and George Miserlis.
Testy Tiger
He's coming, so clear the way
Testy Tiger
He's having a real bad day
So if you don't want to end up as his comfort food
Don't say, "Hi," sir
'Cause he'll reply, "Grr"
Testy Tiger
He's in a real bad mood
Yeah, sounds just about right this season about Tiger Woods, eh?
Nope. It's a cartoon character jingle by the Blanks, a four-person group including actor Sam Lloyd, who became famous for his nine-year stint on the TV show "Scrubs" as lawyer Ted Buckland. The song has taken on a life of its own.
"You're right. It does work for Tiger Woods! Who knew?," said sports fan Lloyd, whose band first performed at a "Scrubs" Christmas party and then made more than 15 appearances on the show. "We just wrote it as a jingle as a possible song for the show. We did it more as a musical exercise."
Now, the foursome -- Lloyd, Philip McNiven, George Miserlis and Paul Perry -- travel the country performing original songs and humor bits. They perform Friday at Comix in New York, Aug. 27 in New Hampshire and Aug. 28 in Connecticut.
"It's a little vaudeville. It's a little Monty Python. It's a little Three Stooges," said Lloyd, who is from Weston, Vt. "And three of us are all big sports fans."
Other songs by the Blanks, who didn't even realize their golf themes: "Elliot in Your Cup", "The Full Monty", "Charles in Charge" and then "Testy Tiger Additional Reprise".
Testy Tiger
We're wrecking his habitat
Testy Tiger
It's making one crabby cat
Ain't that the truth.