EVERETT, Wash. -- The greatest line an umpire gets to speak is "Play Ball!" But what happens when a team refuses?
That's the dilemma umpire Matthew Mullins faced as the home plate ump two nights before I made my Baseball in the Backyard stop at Everett's Memorial Stadium. The rain had stopped and the infield was in great shape but left field was very wet from where the grounds crew dumped the water that had pooled on the infield tarp. After his left fielder slipped on a play, Boise manager Jody Davis pulled his team off the field in the bottom of the first inning, claiming the outfield was too wet for safe play.
"When I saw him pull his team off the field," said fellow umpire Matt Heersema, who was working the bases that night, "I said, 'Oh boy. Well, we're certainly going to get a lesson in team management right here.'"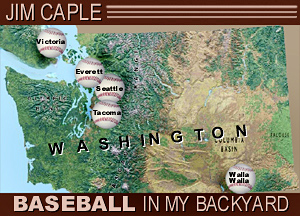 If it had been the World Series, Bud Selig would have said, "What a great night! Let's play two!" The home AquaSox didn't have a problem with the playing conditions, either. Davis saw it differently though and refused to send his team back on the field. Eventually Mullins made one of the toughest calls of his young career. He ruled the game a forfeit against Boise under Rule 4.15 (c): "A game may be forfeited to the opposing team when a team ... refuses to continue play during a game unless the game has been suspended or terminated by the umpire-in-chief." As far as Mullins knows, there have been less than 10 such forfeits in the history of professional baseball.
"I can't make them play, I can only tell them it's time to play," Mullins said. "I can't pick up nine people and make them function on the field. If they choose not to play, then there are consequences for that."
Mullins says he made the right call that night and evidently the Northwest League agreed, suspending Davis for six days. Nonetheless, Mullins didn't sleep much that night and says he wouldn't wish the experience on anybody.
Follow Jim Caple's "Baseball in My Backyard" series this week as he documents the baseball dream in collegiate summer ball, the independent leagues, short-season Single-A, Triple-A and the major leagues.